Ready supply of hot water for multiple uses
Variety of sizes and features to meet every need
Designed for easier replacement of an existing tank water heater
Choose Your Power Source
Tank Gas Water Heaters Available
Tank Electric Water Heaters Available
Conventional water heaters store water in a tank and are available in a variety of gallon capacities. Electric or gas energy is required to maintain the water at a set temperature until a faucet is turned on and water is pulled through the pipe. A conventional electric or gas water heater should last about 11 years. Newer conventional water heaters are more energy efficient than older models. A high-efficiency model can reduce water heating bills by about 7 percent.
A tankless water heater is generally considered more energy efficient because they heat water only as it is needed. When the tap is turned on, the heater goes to work and supplies continuous hot water. A tankless water heater often requires less space and can hang on a wall, but may require larger gas lines, special venting or additional electric circuits that add to the upfront costs. However, a tankless water heater has a life expectancy of 15-20 years and may reduce water heating bills by as much as 30 percent.
A hybrid water heater combines conventional tank storage with a heat pump that extracts heat from the air and uses it to help heat the water. A hybrid water heater uses existing water and electrical connections, and can reduce water heating costs by almost 60 percent.
Solar water heater systems use the sun's energy to generate hot water for your home. Solar water heaters are either passive or active. Passive solar water heating systems are typically less expensive than active systems, but they're usually not as efficient. However, passive systems can be more reliable and may last longer. Active solar water heating systems utilize pumps and controls to circulate water into the home. Most solar water heating systems require a well insulated storage tank and a backup system for cloudy days and high water demand.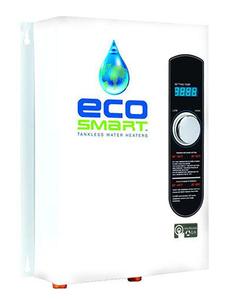 Ready supply of hot water for multiple uses
Variety of sizes and features to meet every need
Designed for easier replacement of an existing tank water heater
Choose Your Power Source
Tank Gas Water Heaters Available
Tank Electric Water Heaters Available